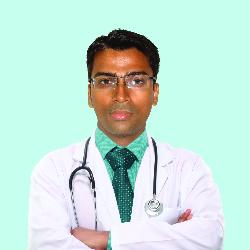 Social Profile Links
Name
Dr. Debasish Chatterjee
Professional Qualifications
MBBS, MS

Areas of Specialization
Oncology,General and Laparoscopic Surgery
Fellowships / Memberships / Work Experiences
Consultant Surgical Oncologist - The Mission Hospital, Durgapur

Dr.Chatterjee completed his MBBS in the year 2009 and proceeded to complete MS in Gen Surgery from R.G.Kar Medical College in the year 2013, post which he joined the prestigious Tata Medical Center in Kolkata as a Fellow in Surgical Oncology from 2013 to 2015. He has completed Fellowships in Minimal Access Surgery from Association of Minimal Access Surgeons of India and Indian Association of Gastrointestinal EndoSurgeons. He has obtained Honorary Fellowship from Association of Surgeons of India. He has special interest in Colon Cancer and Breast Cancer.
Book an Appointment
To make an appointment with our specialists, please complete the online appointment form below. One of our staff from Appointment system will contact you by the next business day to confirm your appointment.
If you require urgent medical assistance, please call our 24-Hour Helpline at 8687500500
Information on this page is secure. We value your privacy.
* denotes mandatory fields.
LEARN MORE ABOUT US
VISITING US?
All you need to know before visiting Mission Hospital Durgapur
Contact Details
The Mission Hospital
Immon Kalyan Sarani,
Sector IIC Bidhan Nagar,
Durgapur - 713212, Paschim Bardhaman, West Bengal
Phone No.: 8687500500