Oncology
What is Oncology?
Oncology is a branch of Medicine which deals with diagnosis, investigation, staging, treatment & follow-up of Cancer.
The Cancer Conundrum:
Cancer is becoming a modern day epidemic. The incidence of cancer in India is 70-90 per 100,000 population & cancer prevalence is established to be around 25,00,000 with over 8,00,000 new cases and 5,50,000 deaths occurring each year. More than 70% of the cases present in advanced stage. About 6% of all deaths in India are due to cancers.
Lack of well-equipped cancer treatment centers and severe shortage of trained cancer specialists compounds the problem.
Comprehensive Cancer Care:
The Department of Clinical Oncology, The Mission Hospital has been developed to provide state-of-the-art management for all types of cancer .Comprehensive cancer care encompasses all facilities including screening, diagnosis, staging, treatment & follow-up of a cancer patient.
What we offer:
Screening & Prevention
: Asymptomatic high risk patients are screened as per standard international guidelines for early detection and prevention of cancer through counseling, relevant investigations, clinical examination and lifestyle modification.
Diagnosis
: Clinical examination, Biopsy, Tumor marker profile, Mammography, CT, MRI, USG, other relevant investigations.
Treatment
: Multimodality multispecialty treatment services incorporating specialized Cancer Surgery, Clinical Oncology, Hemato-Oncology services through Team Approach.
Follow-up
: Clinical examination, Tumor Markers, USG, CT, MRI,Mammography, other relevant investigations.
Brief Discussion on Common Cancers
BREAST CANCER
Worldwide, breast cancer is the most common invasive cancer in women. Breast cancer comprises 22.9% of invasive cancers in women and 16% of all female cancers. 13.7% of cancer deaths in women and 6.0% of all cancer deaths for men and women together for breast cancer. Breast cancer screening refers to testing otherwise-healthy women for breast cancer in an attempt to achieve an earlier diagnosis under the assumption that early detection will improve outcomes. A number of screening tests have been employed including: clinical and self
breast exams
,
mammography
, genetic screening, ultrasound, and magnetic resonance imaging etc. The primary risk factors for breast cancer are female sex and older age. Other potential risk factors include: genetics, lack of childbearing or lack of breastfeeding, higher levels of certain hormones, certain dietary patterns, and obesity. Recent studies have indicated that exposure to light pollution is a risk factor for the development of breast cancer. For the average woman, the
U.S. Preventive Services Task Force
recommends mammography every two years in women between the ages of 50 and 74. The first noticeable
symptom
of breast cancer is typically a
lump
that feels different from the rest of the breast tissue. More than 80% of breast cancer cases are discovered when the woman feels a lump. The earliest breast cancers are detected by a
mammogram
. Lumps found in lymph nodes located in the armpits can also indicate breast cancer. The management of breast cancer depends on various factors, including the
stage
of the cancer and the age of the patient. Generally required combined mode of treatment includes surgery/ chemotherapy/ radiotherapy.
ORAL CANCER
Oral cancer is the most common form of cancer in India. 130,000 people succumb to oral cancer in India annually. The reason for this high prevalence of oral cancer in India is primarily tobacco consumed in the form of gutka, quid, snuff or misri. 75 percent of oral cancers are linked to modifiable behaviors such as tobacco use and excessive alcohol consumption. Other factors include poor oral hygiene, irritation caused by ill-fitting dentures and other rough surfaces on the teeth, poor nutrition, and some chronic infections caused by bacteria or viruses. If oral cancer is diagnosed in its earliest stages, treatment is generally very effective. Chewing
betel
,
paan
and
Areca
is known to be a strong risk factor for developing oral cancer. In
India
where such practices are common, oral cancer represents up to 40% of all cancers. Oral cancer often presents as a non-healing ulcer (shows no sign of healing after 2 weeks). Men are affected twice as often as women. Surgical excision (removal) of the tumor is usually recommended if the tumor is small enough, and if surgery is likely to result in a functionally satisfactory result.
Radiation therapy
with or without
chemotherapy
is often used in conjunction with surgery, or as the definitive radical treatment, especially if the tumour is inoperable.
LUNG CANCER
Worldwide, lung cancer is the most common cancer among men in terms of both
incidence
and mortality, and among women has the third highest incidence, and is second after
breast cancer
in mortality. The main primary types are
small-cell lung carcinoma
(SCLC) and
non-small-cell lung carcinoma
(NSCLC). The most common
symptoms
are coughing (including
coughing up blood
), weight loss, shortness of breath, and
chest pains
. The vast majority (80–90%) of cases of lung cancer are due to long-term exposure to
tobacco smoke
. About 10–15% of cases occur in people who have never smoked. These cases are often caused by a combination of
genetic factors
and exposure to
radon
gas,
asbestos
, or other forms of
air pollution
, including
second-hand smoke
. Lung cancer may be seen on
chest radiographs
and
computed tomography
(CT) scans. The
diagnosis
is confirmed by
biopsy
which is usually performed by
bronchoscopy
or CT-guidance. Treatment and long-term outcomes depend on the type of cancer, the
stage
(degree of spread), and the person's overall health, measured by
performance status
. Common treatments include
surgery
,
chemotherapy
, and
radiotherapy
.
COLORECTAL CANCER
As of 2012
[update]
, it is the second most common cause of cancer in women (9.2% of diagnoses) and the third most common in men (10.0%) with it being the fourth most common cause of cancer death after
lung
,
stomach
, and
liver cancer
. Signs and symptoms may include
blood in the stool
, a change in bowel movements,
weight loss
, and feeling tired all the time. Risk factors for colorectal cancer include lifestyle, older age, and inherited
genetic disorders
. Other risk factors include diet,
smoking
,
alcohol
, lack of
physical activity
, family history of colon cancer and colon polyps, presence of colon polyps, race, exposure to radiation, and even other diseases such as
diabetes
and
obesity
. Bowel cancer may be diagnosed by obtaining a
sample of the colon
during a
sigmoidoscopy
or
colonoscopy
. This is then followed by
medical imaging
(CT scan) to determine if the disease has spread.
Screening
is effective for preventing and decreasing deaths from colorectal cancer. Screening is recommended starting from the age of 50 to 75 yrs. Treatments used for colorectal cancer may include some combination of surgery,
radiation therapy
,
chemotherapy
and
targeted therapy
.
CERVICAL CANCER
Worldwide, cervical cancer is both the fourth-most common cause of cancer and deaths from cancer in women. In 2012, 528,000 cases of cervical cancer were estimated to have occurred, with 266,000 deaths. It is the second-most common cause of female-specific cancer after
breast cancer
, accounting for around 8% of both total cancer cases and total cancer deaths in women. About 80% of cervical cancers occur in developing countries. Early on, typically no symptoms are seen. Later symptoms may include abnormal
vaginal bleeding
,
pelvic pain
, or
pain during sexual intercourse
.
Human papillomavirus
(HPV) infection appears to be involved in the development of more than 90% of cases; most people who have had HPV infections, however, do not develop cervical cancer. Other risk factors include
smoking
, a
weak immune system
,
birth control pills
, starting sex at a young age, and having many sexual partners, but these are less important. Cervical cancer typically develops from
precancerous changes
over 10 to 20 years.
HPV vaccines
protect against between two and seven high-risk strains of this family of
viruses
and may prevent up to 90% of cervical cancers. Cervical cancer screening using the Pap smear or
acetic acid
can identify precancerous changes which when treated can prevent the development of cancer. Treatment of cervical cancer may consist of some combination of
surgery
,
chemotherapy
, and
radiotherapy
.
Five year survival rates
in the United States are 68%.Outcomes however depend very much on how early the cancer is detected.
Central Pancreatectomy for Pancreatic Adenocarcinoma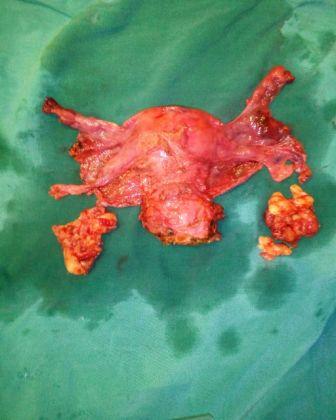 Laparoscopic Radial Hysterectomy with Bilateral Pelvic Lymph Node Dissection for Endrometrial Carcinoma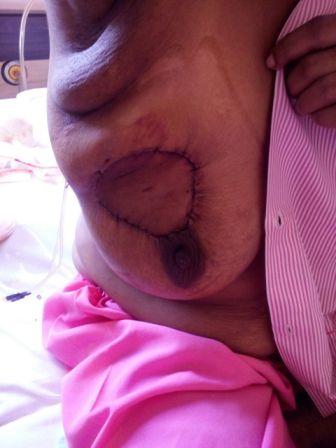 Breast Conservative Surgery with LD flap reconstruction for Carcinoma breast
Laparoscopic Anterior Resection for Rectal Cancer
30cm Malignant ovarian tumor
Primary Debulking Surgery
Atypical presentation of Lupus Vulgaris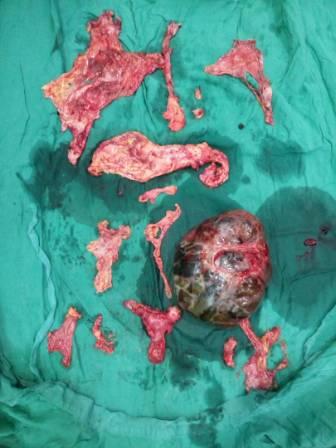 Interval debulking surgery for carcinoma ovary
Radical Orchidectomy with Hemiscrotectomy for Cord Liposarcoma
VATS right upper lobe wedge resection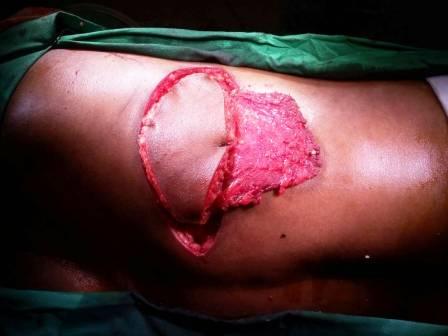 Breast Sarcoma
WLE Plus LD Flap Closure
Scalp Basal Cell Carcinoma - WLE + O-Z Plasty
Inguinal Lymph node dissection with sartorius flap coverage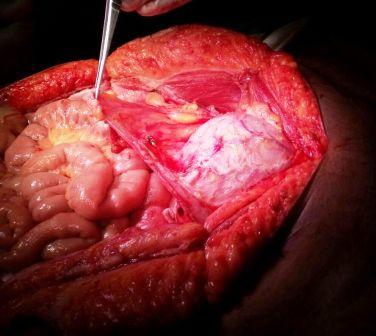 Excision of Bladder Peritoneum in full Bladder method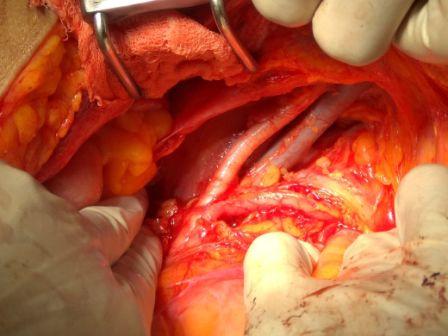 External iliac vessel with Ureter medially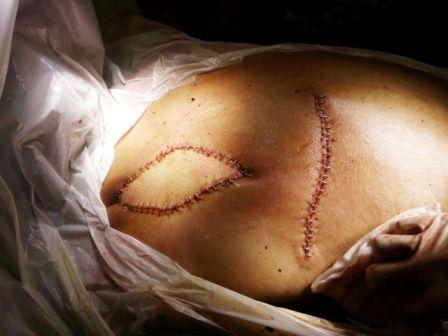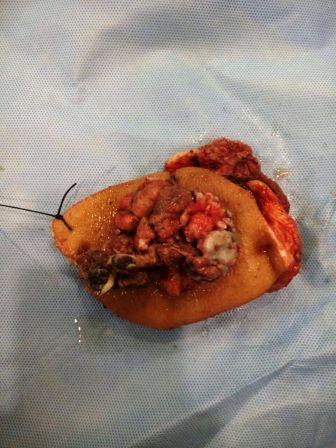 Wide local excision plus LD flap reconstruction for squamous cell carcinoma in back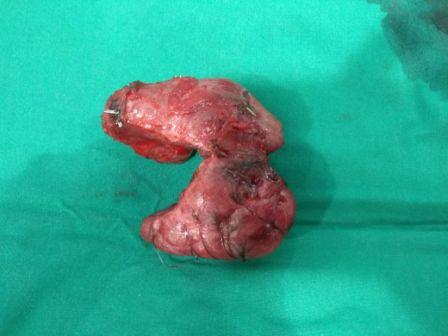 Total Thyroidectomy
WLE + PMMC Coverage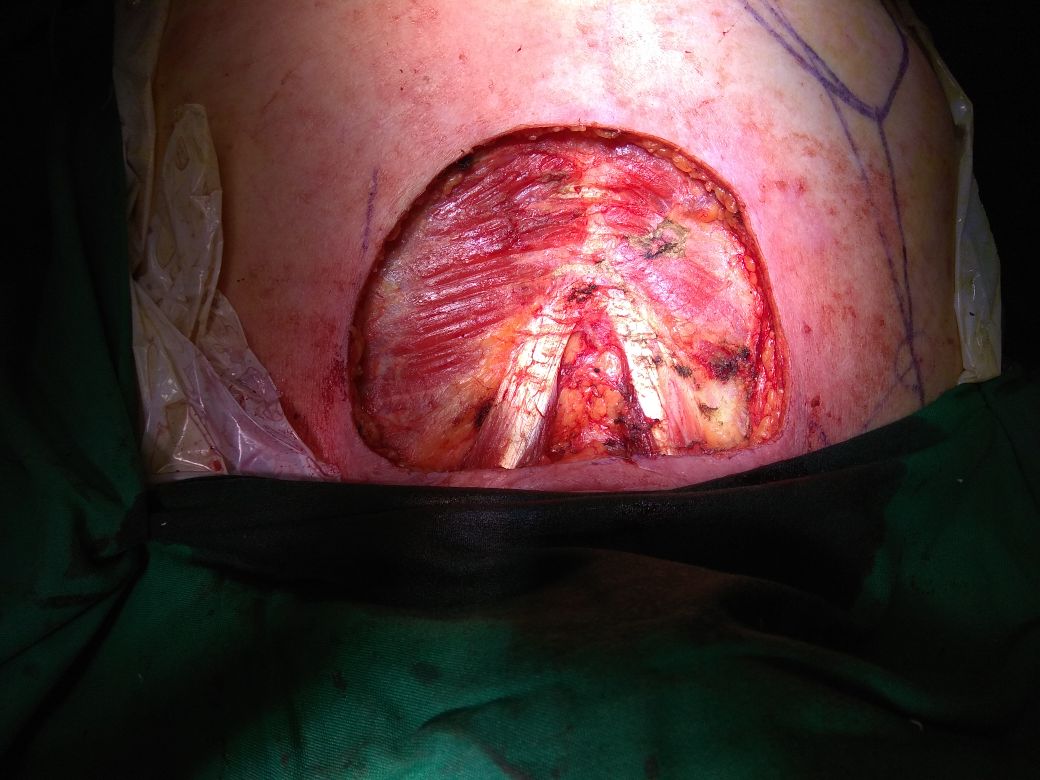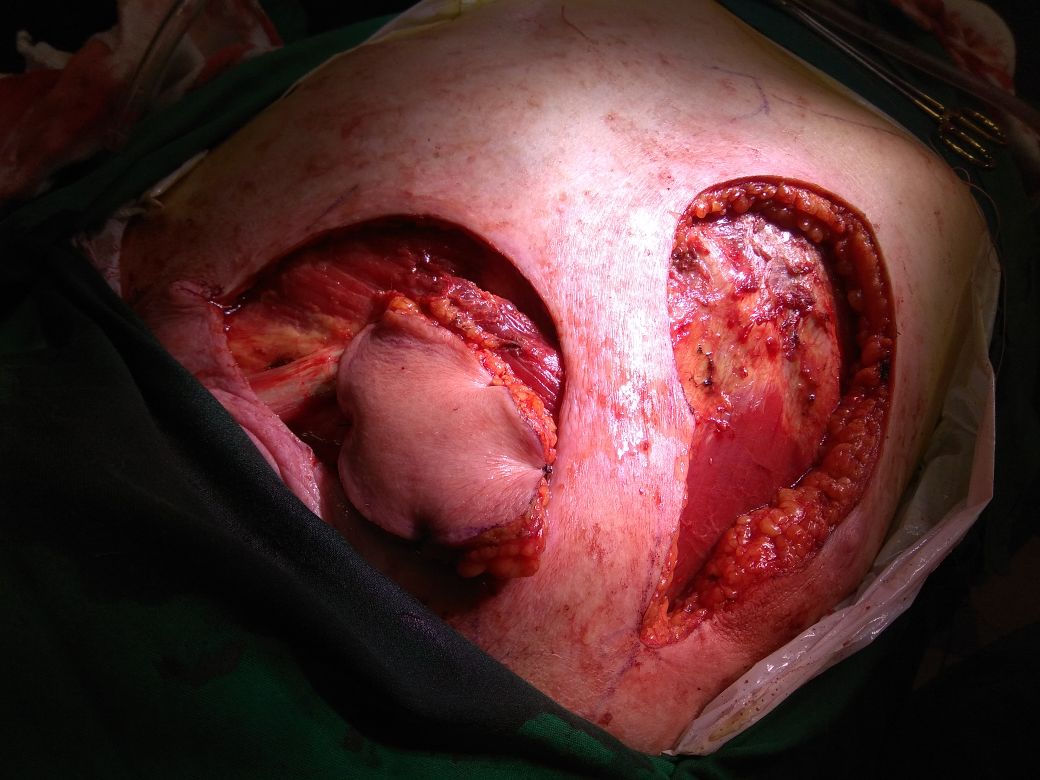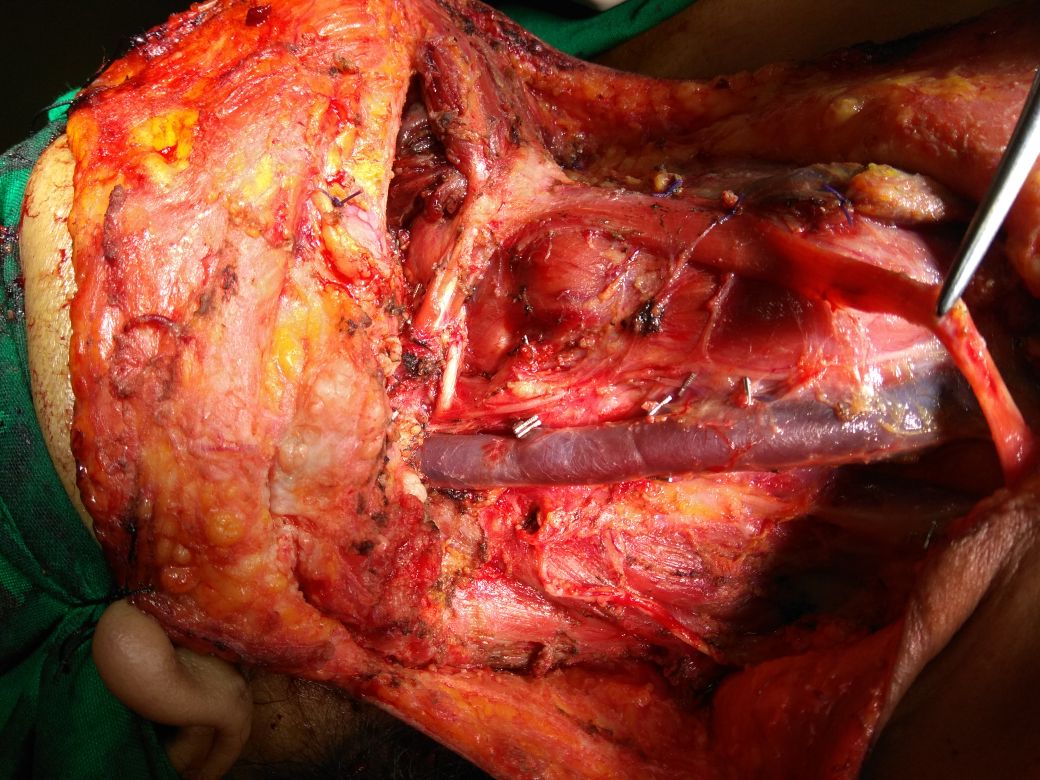 Right Modified Neck Dissection
D2 Lympadenectomy after radical Gastrectomy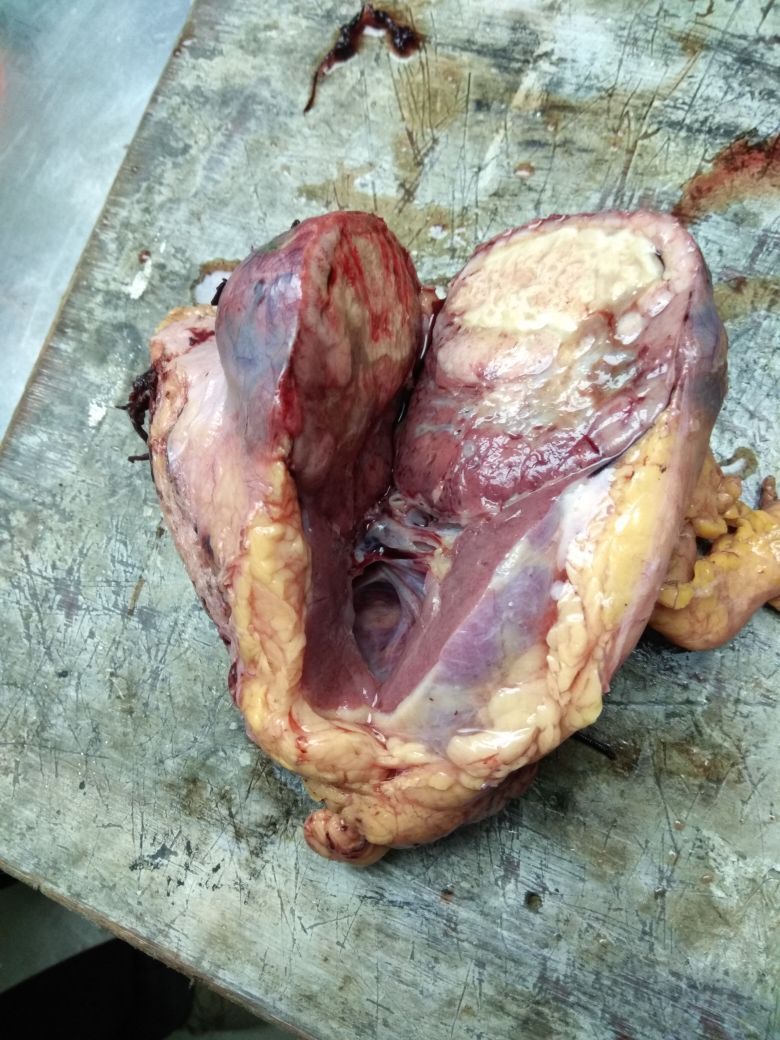 Radical Nephrectomy
LEARN MORE ABOUT US
VISITING US?
All you need to know before visiting Mission Hospital Durgapur
Contact Details
The Mission Hospital
Immon Kalyan Sarani,
Sector IIC Bidhan Nagar,
Durgapur - 713212, Burdwan, West Bengal
Phone No.: 8687500500