SPARSH Foundation USA
SPARSH USA
Tie up with the Sparsh Foundation USA, helps 'The Mission Hospital' to arrange best surgery for children with different congenital heart diseases. So far, a total of over three hundred such operations have been successfully done at "The Mission Hospital".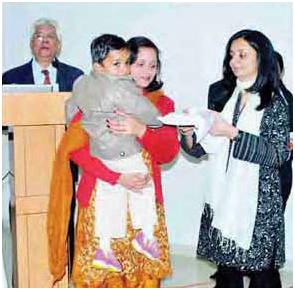 SPARSH is an Ann Arbor, Michigan, USA based non-profit organization, which aims to touch the lives of the disadvantaged in India by providing them access to the critical health care and well being that they need and deserve. SPARSH believes that caring people can come together to make a difference in the lives of these children and women, and hence, engagement of the local community is an important part of the organization's mandate. The word SPARSH means touch in many Indian languages. Sreyashi Dey's transformative experience in India led to the founding of SPARSH. She learned through conversations with Dr. Srirup Chatterjee, that he was deeply committed to finding ways to operate on children whose parents could not afford to pay for surgery. She began to discuss with him the possibility of forming a non-profit organization that would raise funds for the critical surgeries for children. This was the seed that grew into SPARSH. Sreyashi, an active professional Odissi dancer, realized that she could use her art to help disadvantaged children who need surgeries. Deeply touched by the encouragement of members in the community, including artists, physicians, academics, and journalists, she got a group of individuals to form the executive board. Though from diverse professional backgrounds, they bring together their experience, talent and passion to the common goal of removing barriers for disadvantaged women and children. And thus touch a life.
In spite of the generous financial help received from Ms. Sreyashi Dey of SPARSH foundation, The Mission Hospital has to waive of nearly 50% of the surgery cost to make these operations a possibility.
Apaediatric heart surgery costs nearly 1.20 lacks and all financial support makes up for a little more than the half the cost or around Rs 70,000/- the remaining Rs 50,000/- is supported by The Mission Hospital. It is one more testimony to the principle of The Mission Hospital that a child patient admitted here shall not go back unattended.
Let us all come forward to help the less fortunate children with cardiac problems in our region who are struggling for life.
LEARN MORE ABOUT US
VISITING US?
All you need to know before visiting Mission Hospital Durgapur
Contact Details
The Mission Hospital
Immon Kalyan Sarani,
Sector IIC Bidhan Nagar,
Durgapur - 713212, Paschim Bardhaman, West Bengal
Phone No.: 8687500500